Books recommended by the WFL
LES LÉVRIERS
---


Martin S. Fischer, Karin E. Lilje
Hunde in Bewegung + DVD. Kosmos(Franckh-Kosmos), 2011
Deutsch: MedienNr.: 573976 - English: MedienNr.: 573978
Borromedien
BARZOÏ
---
IRISH WOLFHOUND & SCOTTISH DEERHOUND
---

Victor Besson
L'Irish Wolfhound et le Deerhound. 106 p.A4, illustr. (out of print)
FREE DOWNLOAD (R.A.L.I.E.)
Full book + Addendum

Phyllis et Delphis Gardner
Some great Irish Greyhounds and Wolfdogs from the past. 110p.
killykeen.com


Elizabeth C. Murphy
- Raising, showing, breeding the Irish Wolfhound. 3rd ed.rev., 1994. 282 p., illustr.
- The Irish Wolfhound. Photographs & pedigrees – Ireland and U.K. 1950-1990. 250 p.

Lois Thomasson
Irish Wolfhound Passage. Flyer - 176 pages, soft-bound
with over two hundred pictures, many of them never seen before.
A companion volume to the « Odyssey » with all new material and photos,
including several secrets of the Irish Wolfhound world.
Price: $35.00 + $5.00 postage and handling ($15.00 overseas)
Available from:
Lois J. Thomasson - 18331 Corral del Cielo - Salinas, California 93908 - LJTroses@aol.com

FR - DE
PROGRAMME
1. Aspect législatif de l'élevage de chiens (FR)
1. Gesetzlicher Aspekt der Hundezucht (DE)
2. Activités Cynologiques à Luxembourg
3. Code d'Ethique
4. Elevage durable
5. Logement des Chiens
6. La reproduction canine
7. La médecine alternative
8. Vaccination, Vermifuges, Parasites
9. Les vaccins, pour ou contre
10. Les parasites externes et internes, les vermifuges
For any inquiries,
feel free to contact the WFL.


Wandhond Festivals
Results & Photos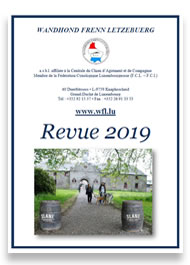 The annual magazines of the WFL
(French - German)