Favorite Links of WFL
friends & sponsors

frups.lu

platinum.com

New experience, new challenge and a new Sponsor. Many thanks to Platinum natural dog food and our local expert Deierefrups.

Nouvelle expérience, nouveau challenge et un nouveau sponsor. Un grand merci à Platinum, nourriture naturelle pour chiens et à notre expert local en nourriture animale Deierefrups.

Eine neue Erfahrung, neuer Challenge und ein neuer Sponsor. Vielen Dank an Platinum, die natürliche Hundenahrung und unsern lokalen Experten für Tiernahrung Deierefrups.
federations
F.C.I. : Fédération Cynologique Internationale
F.C.L. : Fédération Cynologique Luxembourgeoise
C.C.A.C. : Centrale du Chien d'Agrément et de Compagnie
clubs
Belgium : KBWC-CRBL - Royal Belgian Sighthound Club
Belgium : IWCB - Irish Wolfhound Club Belgium
France : R.A.L.I.E. - Rassemblement des Amateurs de Lévriers d'Irlande et d'Écosse
Germany : DWZRV - Deutsche Windhundzucht- und Rennverband e.V.
Germany : IWC - Irish Wolfhound Club
website of general interest
The Irish Wolfhound Archives, site d'Elizabeth C. Murphy
facebook.com/groups... IW Veterans



FR - DE
PROGRAMME
1. Aspect législatif de l'élevage de chiens (FR)
1. Gesetzlicher Aspekt der Hundezucht (DE)
2. Activités Cynologiques à Luxembourg
3. Code d'Ethique
4. Elevage durable
5. Logement des Chiens
6. La reproduction canine
7. La médecine alternative
8. Vaccination, Vermifuges, Parasites
9. Les vaccins, pour ou contre
10. Les parasites externes et internes, les vermifuges


PROGRAMME
1. Soins périnataux
2. Développement du comportement
3. Tests de Campbell
4. Présentation d'Antagène
For any inquiries,
feel free to contact the WFL.


Wandhond Festivals
Results & Photos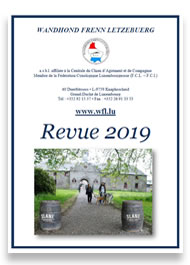 The annual magazines of the WFL
(French - German)