FR - DE
PROGRAMME
1. Aspect législatif de l'élevage de chiens (FR)
1. Gesetzlicher Aspekt der Hundezucht (DE)
2. Activités Cynologiques à Luxembourg
3. Code d'Ethique
4. Elevage durable
5. Logement des Chiens
6. La reproduction canine
7. La médecine alternative
8. Vaccination, Vermifuges, Parasites
9. Les vaccins, pour ou contre
10. Les parasites externes et internes, les vermifuges
For any inquiries,
feel free to contact the WFL.


Wandhond Festivals
Results & Photos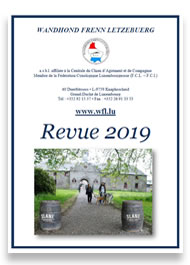 The annual magazines of the WFL
(French - German)