Welcome on the site of the
Wandhond Frenn Lëtzebuerg
archives 2019

- latest news of the WFL
---
2021 - 2020 - 2019 - 2018 - 2017 - 2016 - 2015 - 2014 - 2013
25.11.2019
Puppies - Irish Wolfhound.

---
25.08.2019
Puppies - Whippet.

---
29.05.2019
Dear friends,
It has become a tradition in the meantime, our appointment with Klaus. Please find attached the invitation for our spring release to Irrel.
Invitation FR & DE
---
25.03.2019
Puppies - Whippet.

---
17.03.2019
97th International Dog Show Luxembourg • 11-12.05.2019
Dear dog friends,
The exhibition commission established with the Cynological Luxemburg Federation wishes to thank you very cordially for the precious help you have given during various international dog shows. As you know, the 11th and 12th of May 2019 will see the 97th CACIB Exhibition in Luxembourg-Kirchberg. We dare to hope that we will be able to count on your precious help during this event.
Two information evenings will be organized for all staff helping at the event, namely:
on April 11, 2019 at 8.00 pm at the Threeland hotel in Pétange, 50, rue Pierre Hamer, on April 16, 2019 at 8.00 pm at Euro Hotel in Gonderange, 11, route de Luxembourg.
» Invitation information evenings - Dog Show 2019 (FR) + Registration Form
---
04.03.2019
The WFL Committee has the honor and the pleasure of inviting you to its Ordinary General Assembly to be held on Sunday, March 24 at 8 pm at the Threeland Hotel in Pétange.
» Agenda (French)
---
20.02.2019
Introductory course on breeding - 24.03.2019 - Pétange (GDL)- Hôtel Threeland
Dear Breeder,
The Wandhond Frenn Letzebuerg club, under the auspices of the Luxembourg Cynological Federation (FCL) invites you to take part on the initiation course on breeding. In fact, the new animal protection law provides that every breeder should be visited by an official of the Veterinary Services Administration, in order to obtain an authorization to breed from the Ministry of Agriculture. During this visit, you will be asked if you have attended courses on breeding. In this context, we propose you to attend a seminar on breeding with, at the end, a certificate attesting that you have followed a training.


Invitation - Program


Booking form -
Booking form
---
---
---
2018

- latest news of the WFL
---
24.09.2018 » UPDATE litter 09.09.2018 » 22.11.2018
Puppies - Whippet.

---
17.10.2018
Puppies - Whippet.

---
13.06.2018
Puppies - Borzoï.

---
27.05.2018
Puppies - Irish Wolfhound.

---
06.05.2018
Click on the image to view / download in larger size
---
03.03.2018
France - Le Touquet - 09 & 10.06.2018 - Website FIWC 2018
Entries & reservations lectures and/or Gala Dinner - Buffet are open.
---
28.01.2018
---
For any inquiries,
feel free to contact the WFL.


Wandhond Festivals
Results & Photos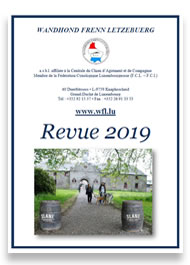 The annual magazines of the WFL
(French - German)