Welcome on the site of the
Wandhond Frenn Lëtzebuerg
archives 2016

- latest news of the WFL
---
2021 - 2020 - 2020 - 2019 - 2018 - 2017 - 2016 - 2015 - 2014 - 2013
12.12.2016




The annual WFL magazine 2016 is online (French - German)


---
10.10.2016
Puppies - Irish Wolfhound.

---
02.10.2016
INVITATION - Autumn Walk
We would invite you to attend our Autumn Walk on Saturday October 15 at Villers la Chèvre.
René Philippe, our members, will welcome you. Meet at 10:30 at the parking of the village hall >>


INVITATION (French)
---
02.10.2016 - FOR THE LOVE OF WOLFHOUNDS VOL II - A JOYOUS LIFE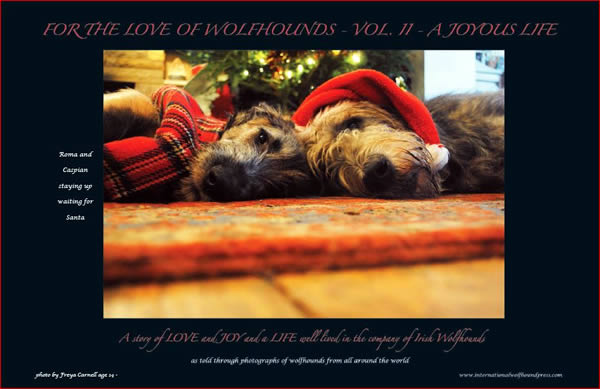 Hello Everyone!
Amanda and I wish to thank you all for your support of both of our For the Love of Wolfhounds. Without you we could not have created these books.
We could not have provided new treasured ways to help raise funds for club causes, IW health fund raisers and individual "Angel" book gifts.
For those of you how had major shipping issues, we are deeply sorry. In the end the decision was made to send a pallet of books to me in the USA. I have about 300 books or less left -- which we hope to sell by end of November so everyone has their books prior to the holidays.
I have a request, please share the attached holiday advert with friends and if at all possible include in your newsletters and club news (pdf version for printing, post to your Facebook and blog pages (jpg version for photo uploads).
This is also a touch base - if any of you have not received your book(s) please let me know ASAP. I have a box of books MIA for South Africa and we are solving the problem.
Please note we can have books express shipped for an additional fee (determined by the courier - ex. DHL).
Thank you all for your photos, your love, your purchases.
International Wolfhound Press - iwhctb@gmail.com
---
04.07.2016
Wandhond Festival 2016
Results and photos are online.
---
20.06.2016
STATS • Wandhond Festival 2016 - 26.06.2016 - Camping Fuussekaul
Afghans: 21
Azawakh: 2
Barzoï: 16
Basenji: 5
Chart Polski: 2
Cirneco Dell Etna: 4
Deerhound: 3
Greyhound: 8
Irish Wolfhound: 39
PLI: 21
Saluki: 20
Whippet: 19
---
10.06.2016
Wandhond Festival 2016 - 26.06.2016 - Camping Fuussekaul : change of judge.
Mrs Rita Reyniers (B) replaces Mr Ferdi Dickmann (D) (Whippet - PLI - Basenji - Podenco - Cirneco - Pharaoh).
Updated form online (see above).
---
12.05.2016
Puppies - Irish Wolfhound.
---
17.03.2016
1. Abdominal ultrasound: 18 to 21 July 2016 / Campus Limpertsberg
12H30 – 17H00

2. Echocardiography: August 28-September 4, 2016 / Campus Limpertsberg
Schedule:
August 28: 1:30 p.m. to 6:00 p.m.
August 29: 9:00 a.m. to 1:00 p.m.
August 31-September 3: 1:45 p.m. to 5:45 p.m.
September 4: 11:45 a.m. to 3:45 p.m.

Contact: Astrid Knauber
---
17.03.2016
Puppies - Irish Wolfhound.

---
09.03.2016
The new website of the « Federation of European Irish Wolfhound Club » (EIWC) is on the air.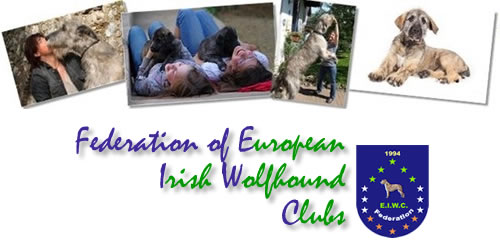 ---
03.03.2016
iwdb.org - info@iwdb.org
---
07.02.2016
The committee of the « Wandhond Frenn Letzebuerg » has the pleasure and honor to invite its members to the annual general meeting (the « Meeting ») to be held Tuesday, February 27, 2016 at 19 hours in the restaurant Schwebeecherbreck, 1 rue Principale, L-8561 Schwebach.

Invitation + agenda (FR)
---
10.01.2016


(French) Champion of Luxembourg - 01.01.2016 rules + new rates
---
For any inquiries,
feel free to contact the WFL.


Wandhond Festivals
Results & Photos

The annual magazines of the WFL
(French - German)