Welcome on the site of the
Wandhond Frenn Lëtzebuerg
archives 2013

- latest news of the WFL
---
2021 - 2020 - 2019 - 2018 - 2017 - 2016 - 2015 - 2014 - 2013
17.12.2013
Puppies - Irish Wolfhound.
---
08.10.2013
WFL - Autumn Walk - 27.10.2013
---
08.07.2013
WANDHOND FESTIVAL 2013
The results and photos are online.
Activities » Wandhond Festival

results & photos
WFL team says thank you for making our festival this highlight again. Thanks also to all these helping hands without them we could not have managed this beautiful weekend. See you all next year (2014 is already on the rails ... with a big surprise).

If you see your hound in the second part of the slide show you may tell us his name and catalogue number, (see indications) all the numbers were not readable.
---
21.06.2013
For those who would like to profit of examinations graciously offered against one hour of time with your dog / cat offered by the ESAVS at the University of Luxembourg Limpertsberg, here are the dates:
1) Abdominal ultrasound:
* Monday, July 22 Thursday, July 25 every time 13-17 hours.
Dogs must be razed for this examination.
2) Echocardiography:
* Sunday, August 25, from 13 to 17 p.m.
* Monday, August 26, 09 to 13 p.m.
* Wednesday August 28 to Saturday, August 31 every 14 to 17 p.m.
* Sunday, September 01 from 11:30 a.m. to 15:30 p.m.

Each examniation takes approximately 1 hour.
You can request an appointment by calling:
Astrid Knauber
ESAVS Associate Manager
GSM : 0049 1776702930
Tel. : 0049 6782980650
Merci.
---
20.06.2013
WANDHOND FESTIVAL 2013
CACL - CHAMPION DES JEUNES Luxembourg - CHAMPION DES VETERANS Luxembourg
30.06.2013
ENTRIES ARE CLOSED.
UPDATE !!!


Statistics entries
ITINERARY PARKING !!!


Itinerary to follow to reach the only accessible parking (FR/DE)
---
16.05.2013
WFL - Spring Walk - 02.06.2013
---
28.04.2013
Puppies - Irish Wolfhound.
---
08.04.2013
Belgium - Outdoor Saluki Specialty Show with CAC
SCB - 26.05.2013 - Beringen (Belgium) - Judge: Lisa Hudson (UK)
---
05.04.2013
Puppies - Irish Wolfhound.
---
22.03.2013
Minutes of the General Assembly of WFL - 17.03.2013 (French)
---
20.02.2013
All our Irish Wolfhound owners, please have a look at this group and if you have veterans, please add them.
facebook.com/groups... IW Veterans

---
18.02.2013
General Assembly 2013 WFL
The committee of the Wandhond Frenn Letzebuerg has the honor and pleasure to invite you to the Annual General Meeting to be held Sunday, March 17, 2013 at 19.30 hours at the Hostellerie Val Fleuri Mersch 28 rue Lohr.

Agenda (FR)
---
05.02.2013
Puppies - Irish Wolfhound.
---
03.02.2013
Appeal of the Commission des Expositions established by the Federation Cynologique Luxembourg.
30 and 31 March 2013 will be held the 86th CACIB Show in Luxembourg-Kirchberg. We hope that we can count at this event on your very precious help.
Two information evenings will be organized for the staff assisting in the rings.


Information letter (French)
---
03.02.2013
Grooming & Handling - Bigonville - 03.03.2013
Deadline: 25.02.2013 - 30,00 Eur / 30,00 Eur / 1 pers. + 1 dog, incl. lunch


Lettre d'information (French)
---
03.02.2013
Dear all,
As some have already read on our Facebook page, the website of the WFL has been hacked.
Here is the new version of our website.
As you can see, there is still much information to put online, but for security reasons, all documents are controlled progressively.
In the coming days, we will take the necessary steps to make the website fully functional.
During the restoration work, it is possible to have some delay to reach one or other page.
Important: remember to update your bookmarks.
We apologize for any inconvenience this situation will cause.
Thank you for your kindness and understanding.
Hope to see you soon at one of our activities.
The WFL team.
---
For any inquiries,
feel free to contact the WFL.


Wandhond Festivals
Results & Photos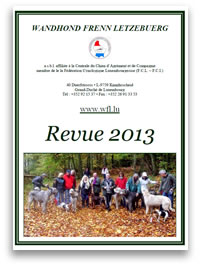 The annual magazines of the WFL
(French - German)