Committee of WFL • The statutes of the WFL • Join the WFL • The magazine of the WFL

Join the WFL
Simple fee: 20,00 Eur payable during the first quarter of the year.
Breeder fee: 50,00 Eur (with citation kennelname and announcement litters ​​& matings).
Breeder fee ONLY for SIGHTHOUNDS BREEDERS.
An e-mail address is imperative because any invitation is sent via this way.

FR - DE
PROGRAMME
1. Aspect législatif de l'élevage de chiens (FR)
1. Gesetzlicher Aspekt der Hundezucht (DE)
2. Activités Cynologiques à Luxembourg
3. Code d'Ethique
4. Elevage durable
5. Logement des Chiens
6. La reproduction canine
7. La médecine alternative
8. Vaccination, Vermifuges, Parasites
9. Les vaccins, pour ou contre
10. Les parasites externes et internes, les vermifuges


PROGRAMME
1. Soins périnataux
2. Développement du comportement
3. Tests de Campbell
4. Présentation d'Antagène
For any inquiries,
feel free to contact the WFL.


Wandhond Festivals
Results & Photos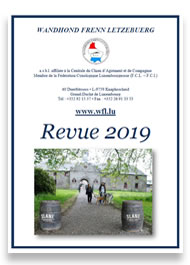 The annual magazines of the WFL
(French - German)